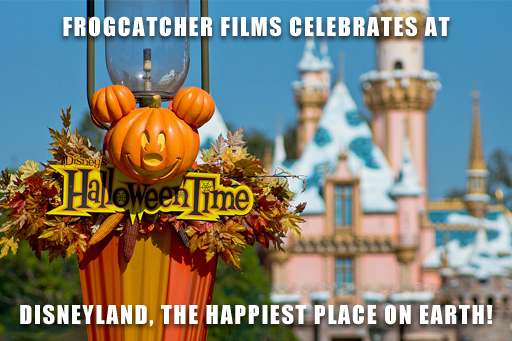 A personal note…
by Mim Paquin
As the CEO of this company, I cannot express the gratitude we have for this year-long support from all of you! My beautiful in-laws, George & Linda Robinette, planned another amazing family getaway for Jason, Zephyr and I.  Last year it was a Caribbean cruise, this year Disneyland!  My husband Jason Robinette and his folks hold a long tradition of heading to the magic kingdom to celebrate with family, sharing in love, happiness, togetherness and the magic of creating happy shared memories!  This will be our four year old son Zephyr's first Disney experience, and we are thrilled it will be with his grandparents!
Disneyland L.A., is a perfect place for this family team to celebrate many wonderful life events: wedding anniversaries, birthdays and, the inception of Frogcatcher Films, LLC. 
It was a year ago this week when my husband Jason and I had a very serious conversation regarding the possible formation of this company, Frogcatcher Films. 
In the beginning of 2013 I lost an aunt, in the spring I lost an uncle (they were married) and I lost my grandmother's lifelong best friend, if I weren't devastated enough, on last day of summer in 2013 my grandmother Eileen Nekuda, the one person who consistently supported everything I am and do, my best friend, passed away (read Inspirational Origin story here).  It was a couple of weeks after having been inspired by family and friends at my grandmother's funeral, when Jason and I had a discussion of the film production company's business model and the official launch date spring the following year 2014.  We could have launched sooner, but did not want to have a conflict of interest on our hands, as we were both employed by another film company at that time, so we kindly waited. In retrospect, we probably should have just launched our company sooner, loyalty and support to others often goes unnoticed and completely unappreciated, take for granted, taken advantage of -sure, we both learned this the hard way. 
Here we are a year later in fall of 2014, this week marks the one year anniversary of what it means to make great plans and stick to them–today Frogcatcher Films thrives!  We have zero turnover, meaning, the crew that we've puled together last year is ALL still working with us.  Over the course of the year, we've developed a consulting client list of some well-known industry folk from all creative disciplines; made a truly positive network of peers and colleagues; written an ever growing library of original screenplays; discussed projects with a cluster of investors waiting in the wings with checkbook in-hand for our first film project to begin production!
Most importantly, this dream would not be a reality if it weren't for the strong support and experience-based advice from our family, most specifically our Executive Consultant and first investor, my mom Leslie Paquin, as well as closest friends and encouragement from all team members involved!  Thank you so much for following along with our journey, as we've stated before, this is a life-long dedication and we are not in any rush to get to the finish line (whatever that means exactly.)  We look forward to sharing more with you in the coming months.  Until then, HAPPY FALL! 
My best,
Mim